One
The Color Purple by Alice Walker
My rating: 5 of 5 stars
I somehow managed to miss this one in my high school and college classes – it was never assigned!
However, I've heard about it – the book, the play, the film. None of those at-a-glance reviews prepared me for the depth of the world Alice Walker portrays here.
I picked this copy up at a local bookstore in Boston and read it in just a few days.
Alice Walker creates such dynamic characters. The struggles, oppression, and even small victories these characters experience are striking and revealing.
Two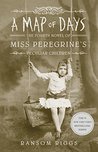 A Map of Days by Ransom Riggs
My rating: 4 of 5 stars
I wish I'd re-read the others in this series before jumping into this one because I forgot so many details from the first three books.
It felt a little slow to start, but I loved the revived dynamics between the Peculiar children. The various American loops are vastly different from those Riggs created in the first three novels. Readers see an entirely different world than previously portrayed.
This one ended with little resolution so I hope he's writing the next quickly!
Three
I'd Rather Be Reading: The Delights and Dilemmas of the Reading Life by Anne Bogel
My rating: 4 of 5 stars
This is a sweet read. It's always fun to find that other people feel the same way about books that I do. They are fascinating and an integral part of my life. I read this pretty quickly. There were some parts that were less applicable to me than others, but it's still a nice book.

Chapters 10-11 were my favorites. They get 5 stars.
Four
The Archivist by Martha Cooley
My rating: 3 of 5 stars
While this was an interesting read, closely tied to T. S. Eliot's work, it was a bit draining. The plot was slow moving in the beginning and ending sections. The middle, written from the point of view of the main character's wife while in the asylum, was the most riveting and moving portion (think The Yellow Wallpaper by Charlotte Perkins Gilman). Honestly, I wouldn't recommend this.
Five
The Arm of the Starfish by Madeleine L'Engle
My rating: 3 of 5 stars
This short novel comes well after the Time Quintet, but contains some of the same characters. The plot was quick-moving and interesting, but there were a few overtly patriarchal comments that were odd. And, honestly, I give this three stars instead of four because she made sharks out to be the enemy. I love sharks.
Six
Beyond the Point by Claire Gibson
My rating: 4 of 5 stars
Loved this read. The characters grow so much that it feels like you're part of them. I can identify with aspects of each of the three women and loved reading their stories.
The jump between year two at West Point and their post-graduation life was a bit of a lurch – I feel like the jump was sudden and a little hard to follow as different events from those missing years surfaced in the plot. I felt like i'd missed part of the book. I wonder if this could have been made into a series? Or perhaps the time jump could have been handled a little better. Regardless, I still enjoyed it.

Thanks Harper Collins for the ARC!